Class 1-1
Ms. Critelli
Welcome to First Grade!
📓 🎒 📚
Please join my Google Classroom using your CHILD's school email address. My Google Classroom code is:
raoogmh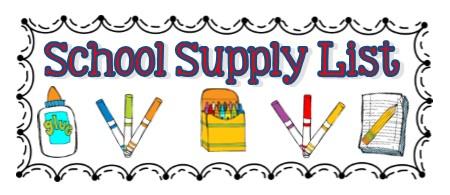 Supply List for 1st Grade - 2021-2022
Please send in these items below for the first week of school:
4 boxes of yellow pencils SHARPENED

2 - 5 packs of glue sticks

2 boxes- 48 Crayola crayons

2 boxes - 12 colored pencils

1 large pink eraser

Plastic Art Supply Box (5 x 7)

1 small enclosed pencil sharpener

1 large soft pencil case

1 pair of child safety scissors

3 reams of copy paper 8 ½ x 11

All labeled with child's name on the outside:

*(No substitutions for the notebooks)*

3 Mead Primary Composition Books, Full Page Ruled, Grades K-2, 100 Sheets, 7 1/2" x 9 1/2"

1 Mead Primary Journal, Half Page Ruled, Grades K-2, 100 Sheets, 7 1/2" x 9 1/2"

1 red plastic two-pocket folder

1 blue plastic two-pocket folder

1 yellow plastic two-pocket folder

A Chromebook or laptop with a carrying case. (Please keep at home until asked to bring in).

Library/Music Class

1 two-pocket folder - clearly labeled MUSIC/LIBRARY with student's name on the outside

1 box - 48 count Crayola crayons - all items bagged and labeled "LIBRARY CLASS"

Physical Education Class

Velcro or lace-up sneakers

Computer Class

1 ream of copy paper

Inexpensive earbuds or headphones. No AirPods or Beats. No Bluetooth. They must be able to plug directly into the computer.

Art Class

1 container of Clorox wipes

24 count Crayola crayons

10 count Crayola markers

12 count Crayola colored pencils - all items bagged and labeled" ART CLASS"
Please send in these items below during the first 2 weeks of school:
2 boxes of facial tissues
2 containers of baby wipes
3 containers of Clorox wipes
1 pack (gallon size) Ziplock Bags
2 rolls of paper towels
Uniforms - For uniform information, please visit www.flynnohara.com
St. Luke's Webpage - Please visit our website www.slswhitestone.org
Have a healthy and enjoyable summer!
Scholastic Class Code: NP489
If your child is absent, they must bring in an absent note when they return to school. Please do not email the absent note.
Extra help will be offered on Mondays and Tuesdays by invitation only. Please arrive no earlier than 7:45 am by Mrs. Angotti.
Students need to comply with school rules in all areas of the school (classroom, hallways, cafeteria, schoolyard, etc.).
If improper behavior persists, you will be contacted by e-mail and your child may receive a time-out. If improvement is still not seen, it may be necessary to contact you for a phone or face-to-face meeting. If something occurs that needs immediate attention, you will be contacted that day.
Incentives for positive conduct and listening are always stressed.
Conduct and classwork are included in the Personal Progress area of your child's Report Card.
Mid-Trimester Progress Reports are also sent home for areas needing improvement in conduct and academics.
Please note:
All students must be adhering to the uniform policy listed in the handbook. Specifically, BOYS must be wearing a short OR long sleeve white shirt AND tie. Boys may not wear a polo. Girls may wear a polo (short or long sleeve) or a white button-down blouse with blue slacks or jumper. Only shoes listed in the handbook may be worn. Black sneakers are NOT school shoes. Girls of any age may not wear ANY makeup or nail polish.
Specials:
Monday: Health (September through December) and Library
Tuesday: Spanish and Computers
Wednesday: Music
Thursday: Art
Friday: Gym (please wear gym uniform and sneakers to school)
Our Science Fusion Book

Directions:

Log into the http://www-k6thinkcentral.com

link in the box for Go Math! to the left of this box.

Click the "My Library" tab

Click on "Science" in the left column.

Click on Student Edition G1

Log in information

http://www-k6.thinkcentral.com

Username:
student12

Password:

gomath1

Click the "My Library" tab

Log in:

Not available at this time

(Please allow 24-48 hours for tests to be graded and put on Option C, and for email responses as well). If there is an emergency, please call the office.
Reading/Fundations/Writing:

| | |
| --- | --- |
| Sight Words and Vocabulary Words | |
Religion:

Pray Hail Mary daily -Our Blessed Mother loves to hear from you!

Social Studies
Grading Policy:
ELA
Assessments
(Grammar, Phonics, Vocabulary)
50%
Writing Assignments: 20%
Comprehension: 20%
Spelling Drills: 10%
Math
Assessments: 75%
Math Drills: 25%
Science
Assessments: 75%
Lab: 25%
Social Studies
Assessments: 75%
Projects: 25%
Religion
Assessments: 50%
Projects: 25%
Prayers: 25%
OUR BOOKS